Check out what we've been doing each Thursday!
Program speaker, Clay Culbreth, founded "
Soap Chips
" in 2014. Soap Chips is an organization that provides showers (including toiletries, wash cloths, towels and clean socks) for the homeless. While some organizations have required $250,000 to outfit a vehicular shower facility, Clay has been able to convert an SUV into a 4-shower unit for only $20,000. At peak efficiency, his unit and his team can enable 30-40 showers in a two-hour period. During the summer, the Soap Chips team is often parked at PiN [People in Need] Ministries on 15th Street in Virginia Beach.
During the winter, Clay loans his vehicle to a winter shelter on the Peninsula. He is hoping to buy a second unit and is looking for 5 Rotary Clubs to apply for a District Grant to help with funding. Clay also spends his time in commercial real estate with Cushman & Wakefield I Thalhimer. He is a past president of the Chic's Beach Civic League and attends Trinity Church with his wife and three children.
Additionally, we were visited by Melody Smith, visiting from San Miguel de Allende Mexico, who shared about her club's program for rainwater harvesting. She is seen below with Rotarians Hearst Vann and Linda Griffin.
One of the best parts of being in Rotary is that it has members all over the world honoring the Service Above Self priority. This week we met Ernie Delfin, a visiting Rotarian from Fountain Valley (Orange County), California. He highlighted his Rotary Club's flagship project of 30 housing units in the Gawad Kalinga (GK) Hope Village in the Philippines near where he was born. Ernie migrated to the USA in the mid 70's where he became very active in his community, church and Rotary. Ernie's accomplishments include:
Founder and Charter President of the 1st Electronic Based Global Kalinga e-Rotary Club (www.gkerc.org) under Quezon City District 3780, whose members are predominantly outside the Philippines that was chartered on October 12, 2011.
Bestowed the GOLD-LEVEL SPONSORSHIP AWARD by RI President Gary C. K. Huang for an exemplary performance in chartering a new club and personally sponsorship of over 25 Rotarians from 2011-2014 during the RI Convention in Sao Paolo, Brazil in June 2015.
Ernie had several friends with him for our meeting including:
Rotarian from Urdaneta City, Philippines, Soledad Montilla (his local host in Virginia Beach)
Rotarian PP Frank Adamo from his own GK eRotary Club from Prescott Arizona (just moved there from Orange County CA)
Dr. Bill Magee, founder of Operation Smile here in Virginia Beach, and Ernie's area connection
Ernie's primary reason for coming to Virginia Beach is to be the keynote speaker at the Gawad Kalinga Hampton Roads Gala Concert & Dinner Dance fundraising event on Saturday, March 31 followed by a musical concert by Sean Erwin Collado, a popular musician-singer from the Philippines, to raise funds to help out this village as well as some livelihood projects of the beneficiaries. Rotary members can be seen in the picture below enjoying the event.
What fun we had! Thirty members and guests visited the new
Mermaid Winery
location on Shore Drive in Virginia Beach for delicious dinner and wonderful wines. Check out the pictures below:
Tonight we honored two extraordinary volunteers in our community serving our city and schools.
Dot Wood, Mary Freeman, Kenneth Chandler
Dot Wood and Mary Russo first met to discuss a city volunteer program 45 years ago. Today, the City has enjoyed the work of thousands of volunteers, saving it residents millions of dollars each year. This year, we honor Ms. Mary Freeman as the City Volunteer of the Year. A retired US Navy Master Chief who started volunteering when she was still in the Navy, Mary now works with the homeless, mentors 1st graders, volunteers for Keep Virginia Beach Beautiful, and Save the Bay.
Dan Edwards, Patsy Slaughter, and Elizabeth Bianchi
In addition, we honor Dr. Patsy Slaughter as the Virginia Beach City Public Schools Volunteer of the Year. Patsy served as an educator for 43 years, 16 years as Principal of Trantwood Elementary School. Under her leadership, 12 years ago Trantwood achieved the national status as a "Blue Ribbon" School. Upon retirement, Dr. Slaughter's love of children quickly drew her back into the schools volunteering at Malibu, Trantwood, and John B. Dey Elementary Schools on a regular basis. Then the current Principal of Trantwood, Elizabeth Bianchi was invited to speak. She spoke passionately about the impact Dr. Slaughter made in her career and life and further spoke of her continuing love of the children.
Program speaker, Kaitlin Burket, is President of the CBDX. The CBDX, a division of the Central Business District Association (CBDA) of Virginia Beach, is a group of business professionals ages 40 and under charged with furthering the mission of the CBDA. CBDX is committed to encouraging involvement of the next generation of business leaders in support of local businesses and organizations, as well as creating future development initiatives targeting young professionals. The CBDX was founded in 2009, when co-founders, Alex Divaris, Danijel Velicki, Stephen Pfeiffer and Erica Meekins Rorrer brought together a group of about 20 local, young professionals to discuss the idea of injecting a youthful presence into the Central Business District Association (CBDA).
The CBDA, formed in 1986, had reached one of its major goals in bringing mixed-use development to the central business district of Virginia Beach. As the organization began trying to shift its focus and reinvent itself to become a strong advocate for the area, they recognized the importance of involving more Generation X and Millennial professionals. The leaders from both the CBDA and the newly formed CBDX worked together to re-energize the organization with a new purpose and continuously evolving mission.
Today, the CBDX is heavily involved within the leadership of the CBDA, with numerous members being a part of its Board of Directors and serving on its Executive Committee. The organization has grown to include 120 members (which includes 30 new members this past year) that participate in a variety of events throughout the year, including socials, athletic events, educational forums and meet-and- greets with local politicians. They proudly participate in a number of volunteer and fundraising activities for local charities, having raised more than $250,000 through their annual Casino Night fundraiser. Most recently, last Saturday their Casino Night grossed $75,000. Those funds support 2 annual scholarships of $2,500 each to graduating Princess Anne High
School students. The CBDX meets monthly at the City Club in Town Center.
Program speakers Robert and Carol Steen are Rotarians involved in
ROMAC
is the acronym for "Rotary Oceania Medical Aid for Children" and is a combined Australia and New Zealand Multi District Rotary initiative. ROMAC has been in operation for over 25 years. They are assisted by many eminent Australian and New Zealand surgeons who generously donate their time for the treatment of their patients. This humanitarian program, started in 1988, has provided life giving surgery to over 500 children from more than 20 developing island countries in the Oceanic area north and east of Australia. These urgent medical treatments are not available to them in their own country. The primary costs for their services lie in the airline costs of transporting the children and their families, the operating room time, and the hospital room time. They have yet to be successful in getting any airlines to sponsor the kids to allow them to fly for free. They are still working on that. ROMAC is looking for donations to support their work. You can become a "Friend of ROMAC" for an annual grant of $500 by a Club or a personal annual donation of $100 per year. To conclude the program, we watched a video of one patient's experience—Charlie. Born with deformed feet, his surgery allowed him to begin to walk more normally and enjoy his childhood with his friends.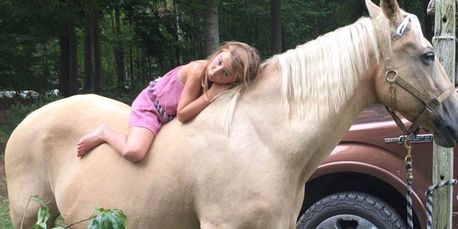 Program speaker Marti Jones is the Treasurer of the
Circle A Home for Horses
. Circle A Home for Horses is a 501(c)3 nonprofit organization dedicated to improving the lives of at-risk youth & rescued equines through paired bonding, learning and fellowship.
Marti told us that each year thousands of healthy horses are purchased inexpensively by people known as Kill Buyers, who then ship the horses to Canada or Mexico for slaughter. The Kill Buyers are paid per pound for horse meat that is shipped overseas
for human consumption. The plight of these horses is inhumane—and horrific. Circle A's goal is to save as many horses as possible from the gruesome trip to slaughter. Their horses come to them depleted, sad, starved, lame, injured, and abused both mentally and physically. They are in need of veterinary services, dental, special grain and supplements, as well as farrier work. Most importantly, they need love and compassion, and learn how to be a horse again. Circle A Home for Horses, Inc. provides farm tours and Equine-Facilitated Learning programs for at-risk children living in shelters, group homes, residential treatment facilities and recently, Seton Youth Shelter's Mentoring Children of Prison Programs. Equine facilitated learning (EFL) is a widely accepted alternative mental health intervention, replacing traditional office based, counselor-patient therapy. Based on a six-week, planned program, neglected or abused horses are paired with children identified as at-risk, as well as children with histories of neglect, abuse, or trauma, substance abuse and eating disorders. Marti shared with us the incredible 3-year growth in the program: in 2015 they had 7 rescued horses and served 487 at-risk youth; in 2017 they had 52 rescued horses and served 2,130 at-risk youth. Following her presentation, Hearst officially presented Marti with a check for $1,000 as part of the Club's 2017 Community Grant program.
Program speaker, Tom Crockett, has served as the Executive Director of the Together We Can Foundation since 2010, bringing a lifetime of experience in education and at-risk youth populations. Tom focused his presentation on "Transitioning Disconnected Youth." These youths are defined as "kids" between the ages of 16 and 24 years old and not working or going to school/college. For our community, this represents 13.2% or 1 in 7 of kids this age. The ultimate solution sought by this program is for these kids to get some post-secondary experience—college or job skills training. The program focuses on foundational factors that lead to high school graduation and then to matriculation at a post-secondary institution. Tom talked about 5 key factors for kids to have a good foundation to build upon:
1. Hope and optimism
2. Experience and exposure to career options
3. Real world financial understanding and aspirational alignment
4. Clear and detailed career transition plan and support network
5. Commonly agreed upon work-life success skills
Tom then thanked our club for its consistent support of the Together We Can mission and said that we are one of the few organizations that has helped them every year for quite some time.
Read about more past meetings -